Services to Attorneys
Schneider & Onofry attorneys include six AV-Preeminent ratings, three Super Lawyers selections, four Best Lawyers selections, four members of the American Board of Trial Advocates, two Certified Specialists in Personal Injury and Wrongful Death Litigation (Arizona Board of Legal Specialization), and Best Lawyers' Phoenix "Lawyer of the Year" (Insurance Litigation) for 2017.
Mediation and Appeals
---
For more information about our services to attorneys and the skilled mediators and appellate attorneys who provide them, see:
A Litigator's Trial Resource
---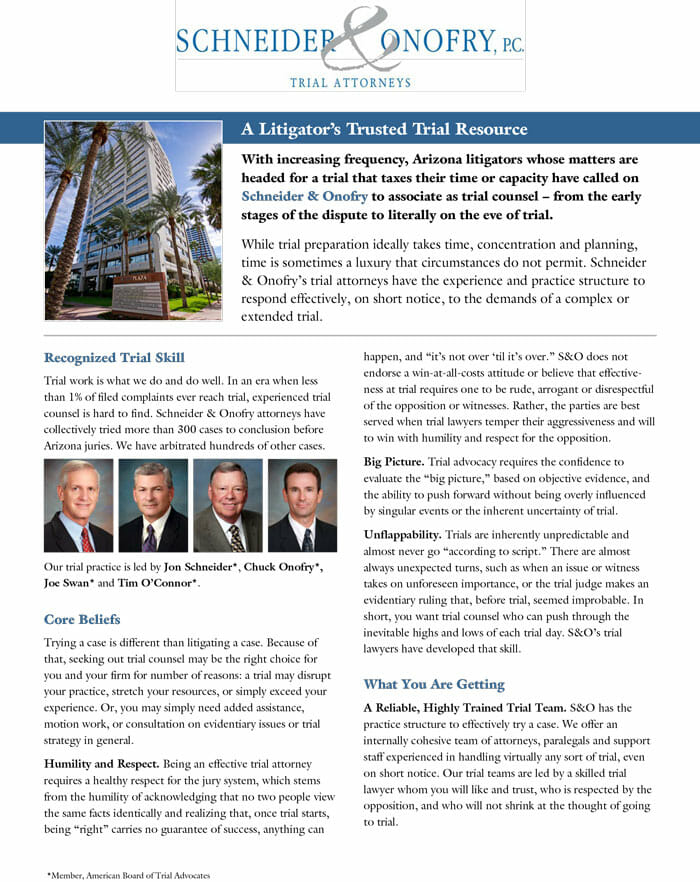 With increasing frequency, Arizona litigators whose matters are headed for a trial that taxes their time or capacity have called on Schneider & Onofry to associate as trial counsel – from the early stages of the dispute to literally on the eve of trial.
Our trial practice is led by Jon Schneider, Chuck Onofry, Joe Swan and Tim O'Connor, all members of the American Board of Trial Advocates.
While trial preparation ideally takes time, concentration and planning, time is sometimes a luxury that circumstances do not permit. Schneider & Onofry's trial attorneys have the experience and practice structure to respond effectively, on short notice, to the demands of a complex or extended trial.
Trial work is what we do and do well. In an era when less than 1% of filed complaints ever reach trial, experienced trial counsel is hard to find. Schneider & Onofry attorneys have collectively tried more than 300 cases to conclusion before Arizona juries. We have arbitrated hundreds of other cases.
See details on our litigation, trial and appeals experience.
*Member, American Board of Trial Advocates
Division of Fees with Referring Attorneys
---
ER 1.5(e) of the Rules of Professional Conduct allow for the division of fees with referring attorneys, provided certain conditions are met.
When attorneys refer cases to Schneider & Onofry, we never increase the contingency fee to cover the fee division. We regularly accept referrals in compliance with ER 1.5(e), and we strive to serve the client's needs and justify the referring attorney's confidence in us.
Recent Trial and Arbitration Experience
---
Many firms advertise the "types" of cases they "handle," which is often a euphemism for cases that they settle. While settlement is often the best route for the parties involved, sometimes cases need to be tried. Here are some examples of the types of cases we have taken to trial or arbitration:
Wrongful Death and Personal Injury
Automobile collisions
Medical malpractice
"Dram shop" cases involving bars/ restaurants serving patrons alcohol
Litigation against for-hire carriers, such as taxis and limousines
Infectious diseases
Slip-and-fall and trip-and-fall cases
Product Liability
Multi-million dollar fire subrogation claim
Insurance Bad Faith
Denial of life insurance benefits
Breach of the good faith duty of equal consideration
UM/ UIM claims
Contested probate and conservatorship
Fiduciary breaches against trustees and executors
Copyright infringement
Business/partnership divorce
HOA common area maintenance obligations
Non-disclosure claims against the sellers of properties
Warranty claims against the sellers of properties
Trespass and nuisance claims
Construction defect claims against contractors
Bond claims for non-payment